Chambers and Partners, European Edition
"The lawyers have been very knowledgeable and helpful, raising issues that we may not have thought of. They are very vigilant and extremely good to work with." – Chambers Europe, 2016 Edition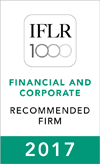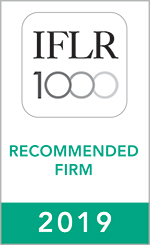 Banking & Finance is a longstanding practice of our firm, contributing significantly to Leroy şi Asociaţii's excellent reputation in the Romanian market. After being involved in the first Romanian law governed syndication, we have been constantly advising lenders, borrowers and investors on complex local and cross-border financings.
In 2016, our firm issued the first Romanian law netting opinion commissioned by the International Swaps and Derivatives Association (ISDA). We advise ISDA, ICMA, ISLA and their members on close-out netting and collateral issues related to derivatives and other financial contracts.
We also advise banks and financial institutions on day-to-day business and a full range of regulatory and compliance issues.
Loan & Acquisition Finance
We advise on lending structures, comprising all types of loans, from straightforward overdrafts and investment loans to complex syndicated facilities.
We advise our clients on acquisition finance transactions and on all related legal aspects, including transaction structuring and security package. Our lawyers also advise on relevant corporate matters such as inter-company guarantees and financial assistance issues.
Real Estate Finance
Our lawyers are involved in large real estate financings in relation to various types of projects, particularly those involving the construction of office buildings, or retail centres.
We advise on structuring transactions, drafting and negotiating credit and security documentation, but also on all other related real estate and corporate issues relevant to real estate financing.
Project Finance
Our team assists banks, international financial institutions and sponsors in high profile projects in the Romanian market.
We advise clients on complex project documents, such as concession, operation & maintenance agreements as well as on the financing documentation in relation to infrastructure, construction and energy projects.
Capital Markets
Leroy şi Asociaţii's Banking & Finance team advises on capital markets offerings, including equity and debt securities.
Derivatives
Our team regularly advises major international banks and financial institutions on the enforceability of the close-out netting and multi-branch netting provisions of the ISDA Master Agreement, the Global Master Repurchase Agreement and the Master Securities Loan Agreement.
We also advise on collateral arrangements under the ISDA Credit Support Documents entered into with various Romanian eligible counterparties, including banks, other financial institutions and public institutions.
Regulatory & Compliance
Our team has expertise in advising clients on day-to-day business issues and regulatory aspects in relation to their corporate structures and market products.
Our lawyers assist banks and financial institutions in drafting their credit and security documentation for corporate and consumer credit products.
We support and advise clients on various legal and compliance aspects, including leasing activities, credit card agreements, credit, and deposits portfolios.
Representative highlights:
Advising an international financial institution in connection with the financing of MedLife Group and the initial public offering (IPO) and listing on the Bucharest Stock Exchange of MedLife SA.
Advising the founders and managers on the buy-out of the majority interest held by a major US based investment fund active in the oil and gas industry in an emerging Romanian company and on the related EUR 19.2 million mezzanine funding and amendments thereto. This is one of the first LBOs on the Romanian market with a mezzanine funding.
Advising ISDA in relation to supporting the local derivatives market and netting legislation, in the context of launching the first Romanian netting opinion, published on the organization's website for the benefit of all ISDA members.
Advising a company specialising in production enhancement in the oil & gas sector in relation to a factoring facility granted by Banca Comercială Română and reviewing the credit and security documentation.
Advising a leading European bank on all Romanian law matters in connection with a syndicated loan for financing the acquisition of three bulk carrier vessels by a Greek shipping group.
Advising an international group on setting up local security interests in relation to a EUR 130 million LBO transaction.
Advising the mandated lead arrangers on a club deal of an aggregate amount of EUR 267.5 million for the development, construction and extension of an integrated project comprising a shopping centre with a multiplex cinema and an entertainment area, a major furniture store and A-class office buildings.
Advising the two largest Romanian banks on a EUR 100 million financing for the development and modernisation of the Henri Coandă Bucharest International Airport.
Advising an international financial institution on a EUR 50 million loan to a major Romanian company operating in the medical sector.
Advising the French School of Bucharest on all aspects related to the construction of its new premises, as well as on a EUR 15.8 million credit facility for financing the construction costs.
Advising major European credit institutions on regulatory requirements for the Romanian subsidiaries of two cooperative banking groups merging in France.