With more than 20 years of experience in mergers & acquisitions, banking & finance and projects & infrastructure, Andreea Toma is once again recognized by IFLR 1000 WOMEN LEADERS 2021!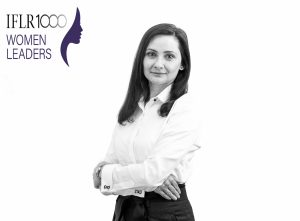 "Andreea has an impressive track record, being consistently appreciated by clients and peers for the quality of her advice and service."
IFLR 1000
Women Leaders recognizes a select group of just over 300 lawyers, highlighting women considered to be Leading Lawyers nationwide in jurisdictions investigated by IFLR 1000. Women Leaders are the leading female transactional lawyers in the world.
This is one of the most appreciated international independent guides, annually compiling law firms rankings in all important jurisdictions, the research being focused on expertise in the fields of financial services and mergers and acquisitions.
The research team examined the presentations gathered from several thousand companies, conducted hundreds of interviews with partners and analyzed thousands of other references to decide which lawyers should be highlighted in the 2020 edition of IFLR1000 Women Leaders.
From Romania, Andreea Toma, Partner at Leroy si Asociaţii and sixteen other partners from CMS Cameron McKenna Nabarro Olswang, Reff si Asociatii, Clifford Chance Badea, NNDKP, Suciu Popa, Mușat & Asociații. entered this top.
Source: https://www.iflr1000.com/NewsAndAnalysis/IFLR1000-Women-Leaders-2021-Europe-Middle-East-and-Africa/Index/12310